(homemade chicken stock and homemade ricotta)
for quite some time now, i've thought about changing the name of this blog to
alysia lawrence lifestyle and photography
. i by no means claim to be an 'expert' in the field of 'lifestyle', but i do enjoy trying and learning new things involved in day to day life.
over the weekend, i tried two new things in the kitchen. both ended up being super easy. i can't help but think some of the things that seem intimidating to me are also intimidating others. i also wonder if i try them out first would others give it a try too. being a friend confirming just how easy and ultimately rewarding these things can be.
most of my interest, at this time, is in the kitchen and gardening. we live a lifestyle now-a-days of eating out, processed foods, sugar, caffeine....and so on and so forth. i'm one that can raise my hand to sugar and caffeine addiction. i can raise my hand at the need to lose a few pounds and improve my health due to poor eating habits.
the two things i tried over the weekend are homemade chicken stock and homemade ricotta. both started out being very intimidating to me, but now i know they are easy peasy (and VERY yummy).
first, chicken stock. i know that not every family cooks whole chickens at dinner time, but we do. whole chickens on the grill are easy, yummy and affordable (around 5 buck a chicken). also, it feeds our whole family. since we cook so many whole chickens it would make total sense to use the leftovers afterwards for something else. that something else is homemade chicken stock. i just had to get over the intimidation hurdle.
i noticed online there are different detailed methods to this process. I chose to roast the left over chicken with thick slices of 2 yellow/sweet onions in the oven at 450 for 30 minutes. turning the onions halfway through. then placing the chicken and onions in a large (6 quart or more) pot along with 7-8 carrots, fresh herbs (i used parsley, thyme and chives out of my garden...yay!), 2 bay leaves, 3 crushed cloves of garlic and 5 quarts of water. most recipes call for celery, but i didn't have any on hand. i felt the fresh herbs would help out in their absence. let it all simmer (not full boil) for 2 hours. once simmered, strain out the liquid. my house smelled wonderful during this process!
i ended up with 16 cups of chicken stock in my freezer. I have one 6 cup container, one 4 cup container and three 2 cup containers.
here is what the pot looked like:
you can see some of the leftover chicken in the background that didn't make it into the pot. :)
here is a recent picture of my herb garden that i love!
next is homemade ricotta. friends, I'M IN LOVE!! This stuff is h-e-a-v-e-n-l-y! (did i stress that enough?!)
8 cups of whole milk
1 teaspoon of salt (i used kosher)
3 Tablespoons of lemon (i used the juice of one whole lemon)
bring the 8 cups of milk to a simmer. as the recipe i used forwarned.....it will try to boil over so beware. if you look closely in the picture below you can see it boiled over on me. :) once it comes to a boil, add the salt, stir, and then add the lemon. stir for 1 to 2 minutes. you will see the clumps starting to form in the milk. after 1 to 2 minutes pour the milk into layers of cheesecloth over a colander. let it sit for 15 minutes to drain. once drained, you are ready to let it cool and store it. you can also add additional ingredients while it's warm. i added fresh chives, thyme, sea salt and fresh ground pepper. YUM, YUM, YUM! I wish you could taste this through the computer! of course, i don't think this would qualify as light and healthy, but it is light and wonderful! consider it an indulgence.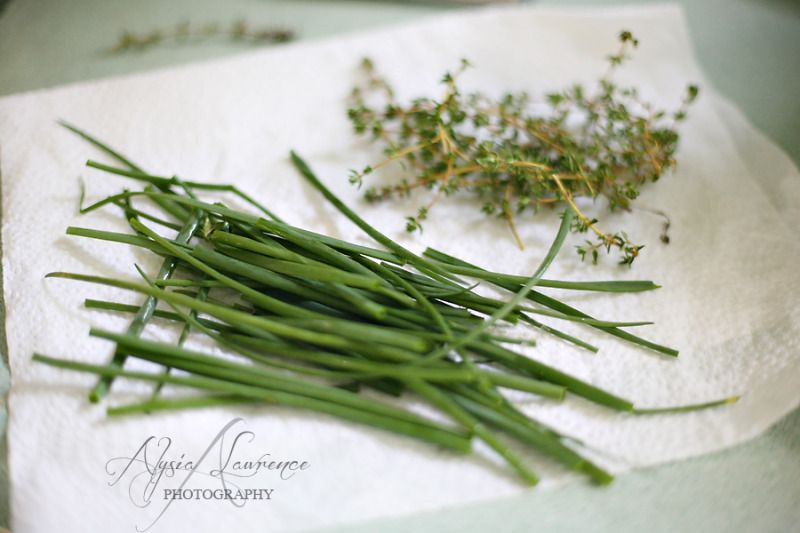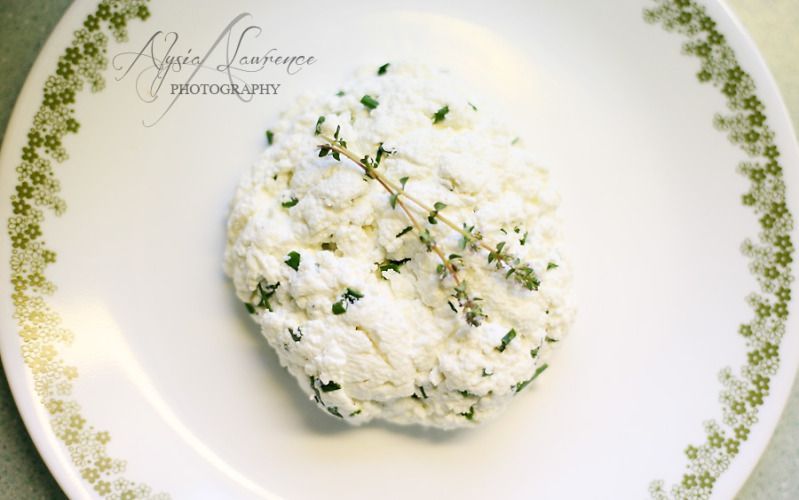 spread this on some toasted bread (maybe toast with some olive oil and seasonings) and enjoy!!
xoxo - alysia